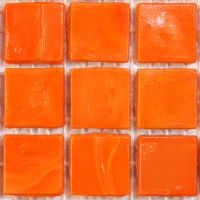 Element Opaque is based on the Murano Smalto range, featuring full body and rich, opaque colour. The tiles are made from recycled float glass and coloured using mineral oxides. This opulent collection can be combined with Shimmer, Opaline, and Starlight for further brilliance. Cuts very easily and cleanly using double-wheeled cutters. UVA- and frost-resistant, they are perfect both indoors and outside in large or small areas.
Each tile is 15mm² and 3.5mm thick.
1 sheet = 400 tiles, and 9.4 sheets = 1m².