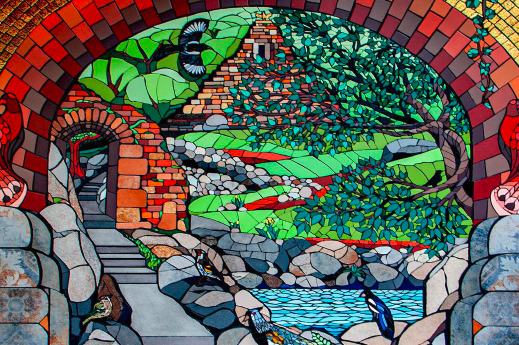 We're delighted to be collaborating with Mosaic & Glass magazine to give you complimentary online access to one of their artist interviews every month! First up, we hope you enjoy reading an interview with Chilean artist Isidora Paz López from Issue 2. Istanbul-based Matt Hanson talks to Isidora about her journey to mosaic and her awe-inspiring, large-scale mosaic interventions in Chile and Germany. Here's a preview of the article. Matt writes:
"As an art student at the University of Chile in Santiago, Isidora Paz López sought courses in the craft of mosaics. But she could not find any. The closest subject was ceramics. So she pursued that and acquired a unique skill that she has since integrated into her many and diverse works as a mosaic artist, specializing in public murals that express a distinctly environmental naturalism."
"Now living in the German city of Pirmasens, reflecting on her early years in her native Chile and the many changes in her life, Paz López remembered how she began producing experimental and multidisciplinary art without a clear focus. As a graduate in ceramics, she made sculptures and explored other forms for over fifteen years. But she felt that something was missing…"
Read the full article here and find out how you can subscribe to the magazine…
Photo: A section from Isidora Paz López's Vogeltreppe project in Pirmasens, Germany. Photo courtesy of Isidora Paz López.